Fundraising Appeal for the Building Extension of Ajatananda Ashram
Project description:
A new building extension is being constructed at the Ajatananda Ashram. The new building will be named "Abhishiktananda Sadan" in homage to Swami Abhishiktananda (Father Henri Le Saux), the spiritual master of Swami Ajatananda. Indeed, Henri Le Saux had the intuition of creating an Ashram dedicated to the Awakening of Consciousness, beyond all religious traditions.
The main goals of the building extension project are:
To increase the size of the Satsang Hall to accommodate an increasing number of spiritual seekers
To provide more accommodation space for the Ashram community members
The project will also increase the size of the roof terrace for outdoor events and improve other facilities to better prepare the Ashram for the growing number of visitors and participants in the Ashram activities.
Pictures of the project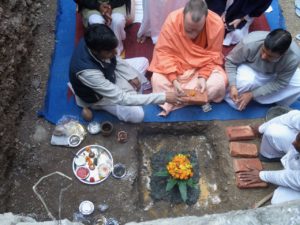 Swami Ji and some brothers of the community performing bhumi puja (blessing of the earth) before the starting of the construction of the new building foundations on December 25, 2016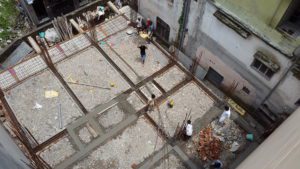 The earthquake-proof foundations of the new building were completed on July 15, 2017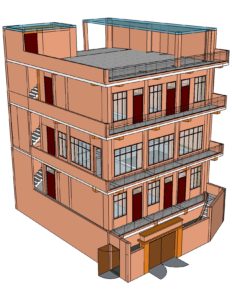 A digital 3D-model has been designed based on the architectural plans of the forthcoming building
The whole of your donation will be transmitted to the Ashram
We are deeply grateful to all those who wish to generously donate in order to help in developing the Ashram and to complete this much awaited construction project! Any contribution, no matter how big or small, will be most appreciated!
Available donation methods are:
Our deepest gratitude for your generous participation!