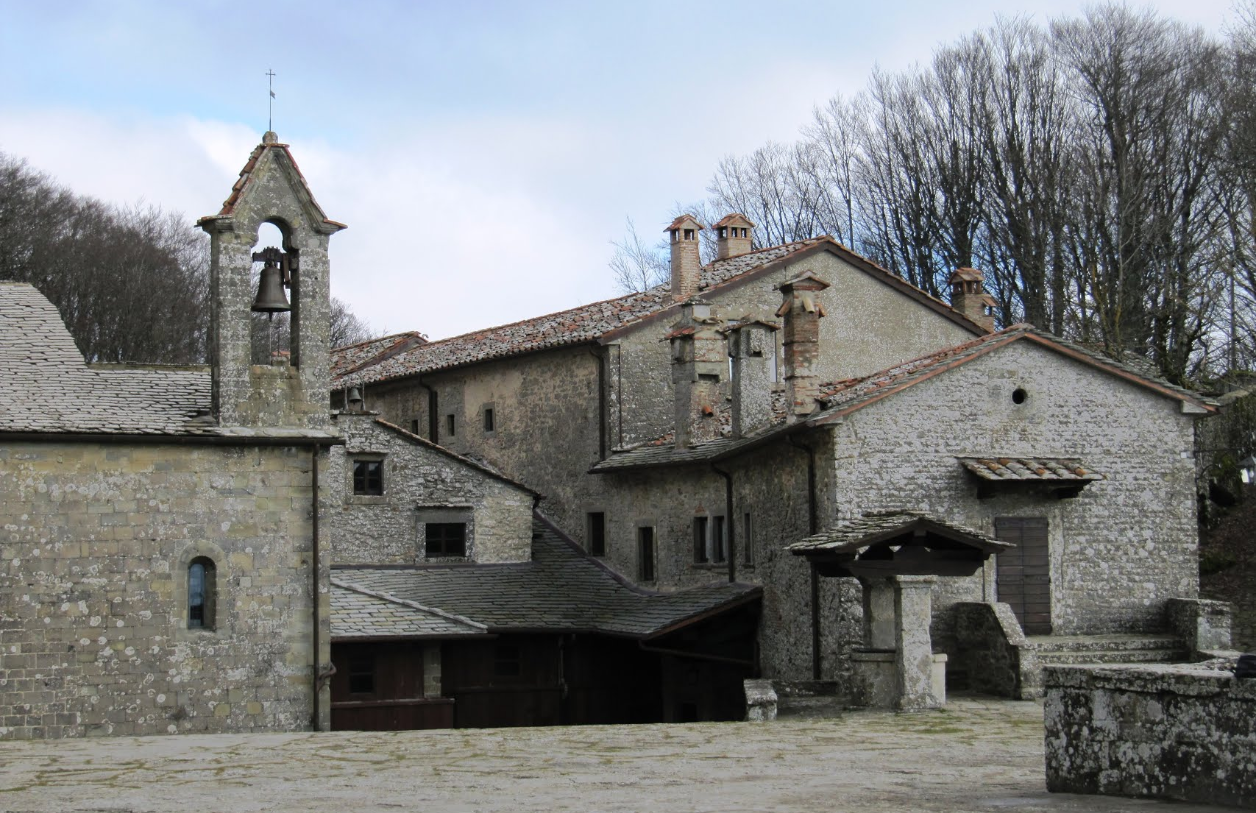 In the footsteps of St. Francis
– November 2017 –
In addition to the International Retreat at Casa Papa Giovanni in Assisi, Swami Atmananda invites all of us to join him for a Pilgrimage to the Franciscan Sanctuary of La Verna, where each year St. Francis used to spend prolonged periods of silence and retreat and where he withdrew for the last time in 1224 and had his highest mystical experiences. It was here that he received the Stigmata.
Please note: the Pilgrimage is limited to a maximum of 40 participants due to the capacity of the coach. We ask you to kindly register your place before September 30th 2017 to guarantee your place.
The pilgrimage begins on Thursday, November 30th in Assisi. We will depart by coach at 14:00.

The coach will take us to the

Franciscan Sanctuary of La Verna

via Perugia, Gubbio, La Verna and Camaldoli.

We will stay for two nights in the 

Franciscan Sanctuary of La Verna

.

We will return to Casa Papa Giovanni by coach on Saturday, December 2nd. We will arrive at 12:30 in time for lunch (provided), followed by registration for the International Retreat.
Cost
2 nights accommodation at the Franciscan Sanctuary – 120 € per person
(full board including 2 evening meals, 2 breakfasts, 1 lunch)
Coach travel – 25 to 53 €
(Unfortunately, we can only give an exact price for the coach travel once we know the total number of participants)
Possible supplement – 10 €
(in case of bad weather, we will make an excursion to Calgoni)
 Two possibilities : retreat alone or pilgrimage followed by the retreat.
This pilgrimage will take place in a spirit of great simplicity and in rustic conditions. The Franciscan Sanctuary is located in the middle of a beautiful forest at the top of a mountain (1200 m altitude).  It will be necessary to walk about 500 m from the car park to the sanctuary, therefore a small backpack is recommended.
The weather at the beginning of the winter may ask us to accommodate rain, even snow or fog.  Bring good walking shoes, warm clothing and an anorak.
The monastic style accommodation is basic and participants will share a small room with two or three others of the same gender.
A very small number of single rooms are available. Those who need them for health reasons can send an email to amis.ajatananda@gmail.org to specify the reason for their request.