Pilgrimage on the footsteps
of Saint Romuald of Ravenna (951-1027)
et de Saint Francis of Assisi (1182-1226)
Registrations for the pilgrimage are temporarily suspended!
We are sorry to inform you that the number of pilgrims registered for the pilgrimage has reached the limit of the accommodation capacity of the Camaldoli Monastery.
See page: https://amis-ajatananda.org/les-amis-dajatananda-ashram/retraites/retraite-internationale/international-retreat/

Swami Atmananda has invited us to accompany him on an optional pilgrimage, which will take place before the start of the Retreat and retrace the footsteps of Saint Romuald of Ravenna and Saint Francis of Assisi.
During this pilgrimage, we will visit:
=> The Benedictine Sanctuary of Camaldoli, founded by the great Italian mystic and genuine 11th-century sannyasi, Saint Romuald of Ravenna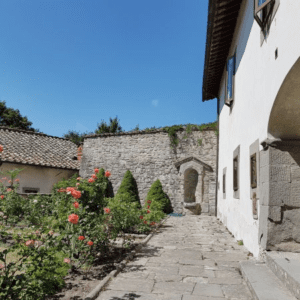 => The Franciscan Sanctuary of La Verna where Saint Francis would spend long periods in silent retreat every year. In 1224, when Saint Francis withdrew here for the last time, he had his highest mystical experience and received the Stigmata.

---

Schedule overview
The pilgrimage starts on Wednesday 27th and ends on Saturday 30th of November 2019.
We will depart from Assisi, by coach, at 1:30 pm on Wednesday 27th November.
We will let you know the departure point in due course.
Itinerary (transport by coach):

Wednesday 27th and Thursday 28th November: Benedictine Sanctuary of Camaldoli (2 1/2-hour drive, approximately). We will spend 2 nights and one full day here.
See http://www.camaldoli.it/
Friday 29th November: Franciscan Sanctuary of La Verna where we will have lunch.
See http://www.laverna.it/
Friday 29th November: return to Assisi in time for dinner
Saturday 30th November: morning visit to the Franciscan hermitage of Carceri

We will return to Assisi at around 12:30 pm on Saturday 30th November. Lunch will be provided at La Casa Papa Giovanni. The Retreat will begin in the evening.
Please note that :
There are two options: Retreat only and Pilgrimage followed by Retreat.
The pilgrimage is limited to 45 people due to the maximum capacity of the accommodation at La Foresteria del Monastero di Camaldoli.
We would be grateful if you could pre-register as quickly as possible so that we can book the coach accordingly. See below for the Pilgrimage Pre-registration form.
This pilgrimage will take place in a spirit of great simplicity and in rather rustic conditions:
= The Benedictine Monastery of Camaldoli is built in an austere location at an altitude of 1,027 metres and consists of about twenty small houses (13th-17th centuries);
= The Franciscan Sanctuary of La Verna is located in the middle of a beautiful forest at the top of a mountain (altitude: 1,200 meters);
= Since the pilgrimage is at the start of winter, we may encounter rain, snow or fog.
We, therefore, recommend that you bring good walking shoes, warm clothes and a jacket;
= The accommodation is basic. The rooms are very small and are mostly twin rooms, although there are a few rooms for 3 people. Rooms can only be shared by people of the same gender (or couples)!
= There are no single rooms!
The pilgrimage costs 245 €, all inclusive.
This covers:
full board at the Benedictine Monastery of Camaldoli (2 nights including 2 dinners, 2 breakfasts and 1 lunch)
lunch at the Franciscan Sanctuary of La Verna
full board at La Casa Papa Giovanni or La Cittadella (1 night including 1 dinner, 1 breakfast and 1 lunch)
transport by coach: the Association will book a coach large enough to transport the pilgrims.
N.B.Those pilgrims who so wish can have lunch at 12 noon on Wednesday 27th November 2019 at La Casa Papa Giovanni before the coach leaves at 1:30 pm. You can sign up for this meal at the end of October. Payment will be in cash (10 €) at La Casa Papa Giovanni.
---

Préinscription / pre-registration :
This form is the same one as on the Practical information and Registration page. Please do not fill this form in twice. It is reserved for participants registered for the Retreat.
Please note that :
You will receive a confirmation e-mail within one to two weeks of your pre-registration to this pilgrimage. After receiving this e-mail, you will be able to complete your payment and then the final registration

.

We will use the e-mail you provide on the pre-registration form to send you any additional useful information. Please ensure that you provide a valid e-mail address.